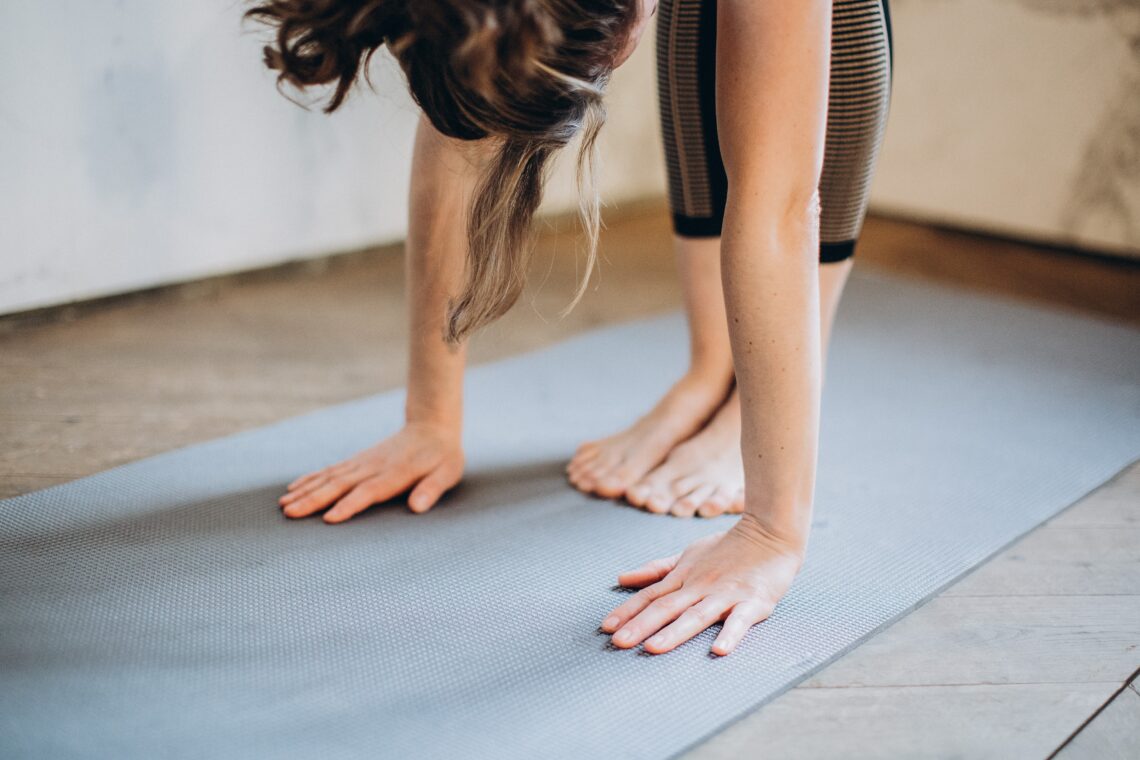 Heads Up: This post may contain affiliate links. If you click and make a purchase through one of these links, I may make a commission at no cost to you. You can read our full disclosure here. Namaste!
You will love this antimicrobial & antifungal DIY Yoga Mat Spray! As a yoga teacher and someone who has a daily practice, my mats require regular cleaning. I've used many methods and solutions to clean my yoga mats over the years. I was a big fan of the Manduka Organic Yoga Mat Cleaner until one day I finally took a good look at the ingredients label:
Manduka Organic Yoga Mat Cleaner Ingredients:
water
organic essential oils
chelating agent (phosphate free)
vegetable oil based surfactant
I quickly realized I could make a better and more cost effective yoga mat spray with household products. The Manduka spray works wonders on natural rubber mats, like the Manduka Pro. However, it has a strong vinegar scent that can be off-putting to some. On mats like the Liforme, Yogibare, and Yoga Design Lab, I needed a more gentle yoga mat spray that wouldn't eat away at the top grip layer.
So, off I went to do some research and play chemistry in my kitchen. After trial & error, and lots of testing, I came up with a gentle, effective DIY Yoga Mat Spray I could use on any mat.
I've been using this antimicrobial & antifungal DIY Yoga Mat Spray for several months and love how customizable it is. I never run out of scent options, even with my little collection of essential oils. It's a very natural, effective, and gentle alternative to the pre-made and commercial options. I particularly like that I can get a cleaner, residue-free, and nicer smelling result from this spray recipe. And it doesn't have the harsh chelators and surfactants that are in so many commercial formulations.
When your yoga mat is a little slippery, sticky, feels strange under the hands & feet, or smelling funky use this antimicrobial & antifungal DIY Yoga Mat Spray!
Love this recipe? Have a favorite go-to essential oil combo? Let me know in the comments below!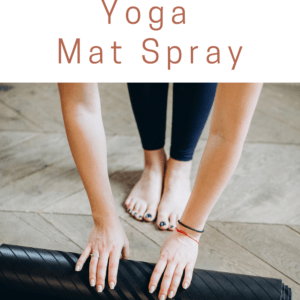 DIY Yoga Mat Spray
Gentle and effective antimicrobial yoga mat cleaner suitable for any yoga mat
Equipment
16 oz Amber or Cobalt Glass Spray Bottle
Ingredients
Organic Alcohol Free Organic Witch Hazel

Thayer's, scented or unscented is fine

Distilled Water

Organic White Vinegar

Organic Cleansing Essential Oil

Like Tea Tree or Eucalyptus

Organic Aromatherapy Essential Oil

Like Lavender, Geranium, or any scent you love. Avoid citrus.
Instructions
Make sure your glass spray bottle has been cleaned and dried.

Fill spray bottle half way with alcohol free organic witch hazel.

Add 4 oz (or a quarter) of organic white vinegar.

Add 4 oz (or a quarter) of distilled water.

Add 5 drops of your organic cleansing essential Oil of choice

Add 10 drops of your organic aromatherapy essential oil of choice

Screw the spray nozzle cap onto the bottle and shake vigorously to incorporate all of the ingredients.
How to Use:
After using your yoga mat, spray the solution evenly over the mat

Allow your mat to dry fully before rolling and storing.
Notes
This solution is antimicrobial & antifungal.
Avoid using essential oils from the citrus family because they are too acidic and can damage the top layer of your mat.
Use distilled water so that mineral deposits and residues aren't left behind on your mat.
Keep the solution stored in an amber or cobalt glass bottle away from sunlight and heat to maintain the integrity of the essential oils.
Avoid storing this solution in plastic in order to prevent chemical leaching.
PIN THIS!