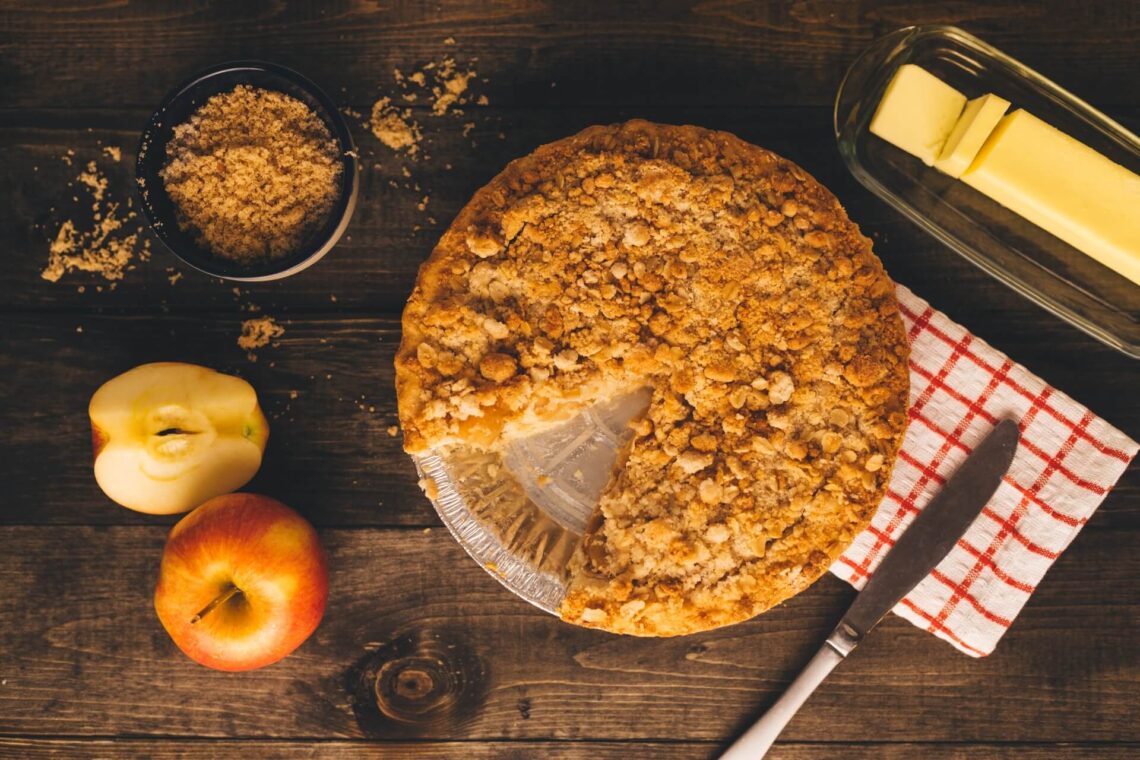 Easy Gluten-Free Apple Crumble Recipe
Heads Up: This post may contain affiliate links. If you click and make a purchase through one of these links, I may make a commission at no cost to you. You can read our full disclosure here. Namaste!
On a quest to create a healthy version of my favorite baked goods, I set my heart on one of my favorite and comforting dishes and managed to come up with this delicious Easy Gluten-Free Apple Crumble. Additionally, this one doesn't contain any refined sugar.
Funnily, it didn't occur to me to ever cook my own fruits. I didn't venture into the aromatic art of baking fruit until grad school. In fact, the first time I baked apples was during one of my bikini competition preps.
I was at my last whit while eliminating sugar and starchy carbs from my diet, I got the idea that I could make an apple pie without the crust, butter, or refined sugar (silly me). In hindsight, my first attempt at baking apples was just okay. However, it was very satiating in the moment. It just wasn't quite right without the crust.
Baking is a science. This isn't one of those recipes I could crank out in a few hours. Over the years I've painstakingly worked on this recipe trying different ingredients and ratios. I've had burned apples, salty apples, bland apples, semi-cooked apples, and many more disasters. And one glorious day, I hit GOLD!
I managed to create an easy and tasty gluten free crust that really amplified The dish and transformed it into an Easy Gluten-Free Apple Crumble!
Easy Gluten-Free Apple Crumble Recipe
How to Enjoy
best served warm in a bowl with vanilla ice cream, this easy gluten free apple crumble is sure to be a hit and become one of your healthy alternatives to conventional baked apple desserts.
I love this dish with a turmeric latte to sip on.
Easy Gluten-Free Apple Crumble Modifications and Variations
To make apple pie, apple cobbler, and apple crisp, the recipe can be modified . Just remember to adjust amounts of crust ingredients to make sure you have enough to cover the type of dish you want to make.
All of the herbs and spices that I use are purchased in bulk from Frontier Co-Op or Starwest Botanicals.
I encourage anyone trying this recipe to play with different flavor profiles. Omit the rosemary in the crust and replace the rosemary in the filling with cloves, currants, or any other delicious ingredient. Try different varieties of apples. Add in various fruits like berries, etc…
I won't go on and on here making you scroll endlessly searching for the recipe card. I like my recipes to get straight to the chase!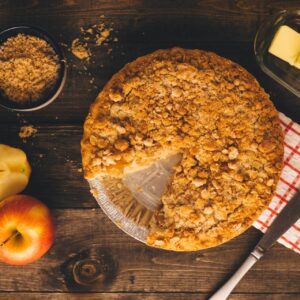 Easy Gluten Free Apple Crumble
Equipment
2-3" deep 9 x 9 Glass or Metal Baking Pan

Mixing Bowl

Blender
Ingredients
Filling
6-8

Large Apples

A Sweet variety like Gala or Pink Lady is best

3

tbs

Butter

1

tbsp

Coconut Oil

Unrefined

3

tbs

Agave Nectar

1

tsp

Ceylon Cinnamon

1/2

tsp

Nutmeg

1/4

tsp

Cardamom

1

tsp

Dried Rosemary

Optional
Crust
2

cups

Gluten Free Oats

1

tsp

Salt

1

tsp

Ceylon Cinnamon

1

tsp

Dried Rosemary

Optional

1/4

cup

Extra Virgin Olive Oil
Instructions
Apples
Pre-heat oven to 350 degrees

While oven is preheating core and cube the apples into bite-sized chunks

Add apples to baking sheet

Melt butter and coconut oil

Add the filling spices, rosemary, and agave into the melted coconut oil and butter. Incorporate thoroughly. Poor over the apples evenly.
Crust
Measure out olive oil and place in a mixing bowl

Combine dry ingredients and rosemary in a blender until powdery.

Slowly incorporate the powder into the olive oil. The crust should have a crumbly consistency.

With your hands, crumble the crust evenly over the apples.

Once the crumble has been scattered over the apples, place in the oven for 45-60 minutes.
Notes
Best enjoyed served warm with vanilla ice cream.
I use organic ingredients to make this at home, but please enjoy this dish with whatever ingredients you normally use.
The rosemary is optional, but I find it adds a gourmet touch to the flavor profile of the dish.
PIN THIS!