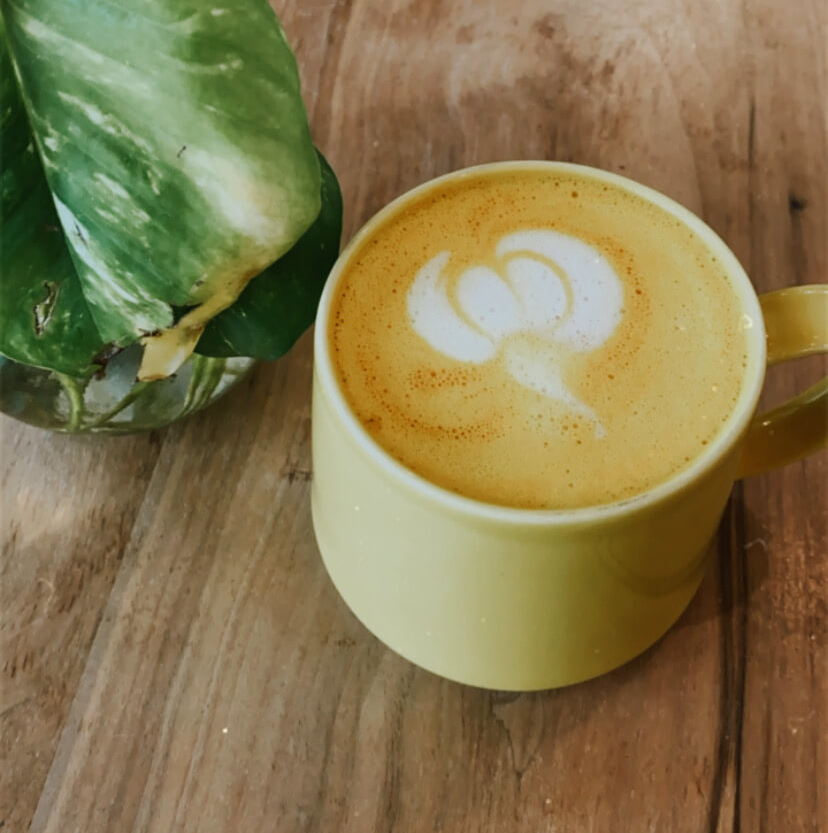 Vegetarian Anti-inflammatory Turmeric Latte
Heads Up: This post may contain affiliate links. If you click and make a purchase through one of these links, I may make a commission at no cost to you. You can read our full disclosure here. Namaste!
Few things are more comforting than a hot coffee on a cold day…except a Vegetarian Anti-inflammatory Turmeric Latte.
I love a cup-o-joe (Java, anyone?) on occasion. But I don't enjoy the jitters and other unpleasant side effects.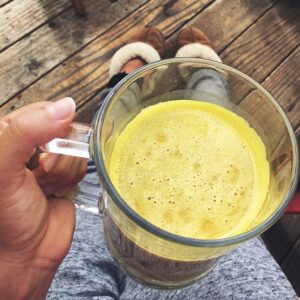 So, after a lot of research I found a way to get cognitive enhancement and mental focus without coffee.
A turmeric latte ticks all the checkmarks for the perfect morning beverage.
This recipe
Also known as Golden Milk, or turmeric tea, turmeric lattes have been enjoyed for centuries.
Traditionally, turmeric lattes contain cow milk. I limit animal products and eliminated processed sugars in my diet. You'll love this clean and healthy Vegetarian Anti-inflammatory Turmeric Latte.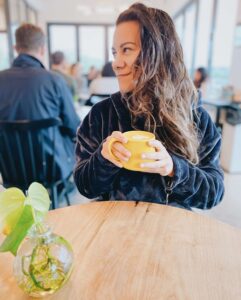 Substitute the milk and fats for whatever you wish. Also, try testing different flavors. You can add vanilla bean or star anise leaf for variety.
Take inspiration from my recipes. Modify them to your liking and dietary needs. Have fun with it!
Remember, the higher quality ingredients the healthier the food will be. I use as many organic ingredients as possible. Add some good karma by using Fair trade ingredients.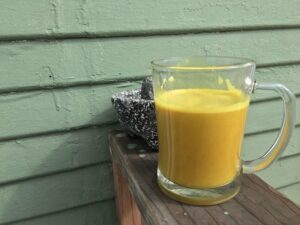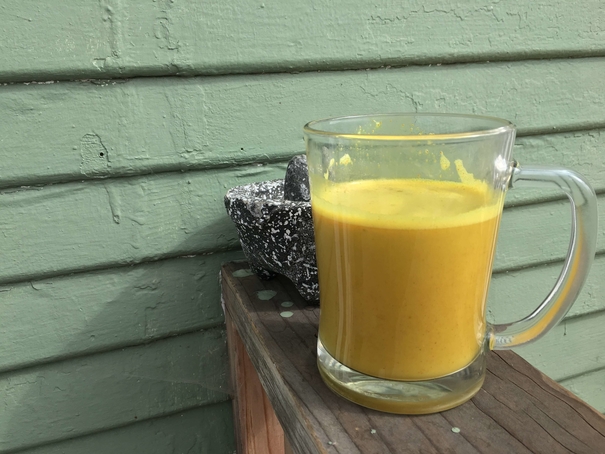 You can purchase herbs and spices in bulk. I like Starwest Botanicals (organic) and Frontier Co-op (organic + fair trade).
Store your herbs and spices in amber or cobalt glass jars. For a cost effective alternative I use clear glass mason or ball canning jars.
Pop a packet of silica gel into the jar to keep the moisture out. Keep your herbs and spices in a cool, dry space away from light.
Health Benefits of the Vegetarian Anti-inflammatory Turmeric Latte
A traditional turmeric latte contains the anti-inflammatory trifecta of turmeric, ginger, and ceylon cinnamon.
For a healthy dose of fats and cognitive enhancement, turn this recipe "Bullet-Proof." Opt for grass fed butter or ghee. Add organic coconut oil. Hello brain food!
Additionally, the health benefits and properties include:
Black Pepper
Like Thelma and Louise turmeric and black pepper are besties. Together they are unstoppable. Okay, maybe that's a bit dramatic. BUT they are a very powerful duo.
There's no harm in having turmeric without black pepper. However, you won't be reaping as many health benefits.
Black pepper contains an alkaloid called piperine.
Piperine is anti-inflammatory and helps relieve:
nausea
headaches
digestive issues
Curcumin, a compound found in turmeric, is not easily absorbed on its own. Piperine increases the absorption of curcumin.
How black pepper increases curcumin absorption:
Piperine helps curcumin move through the intestinal wall
Piperine slows the breakdown of curcumin in the liver
So, any time you use turmeric make sure to pair it with black pepper or peppercorn.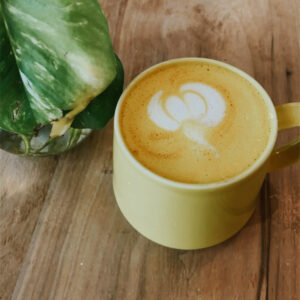 Vegetarian Anti-inflammatory Turmeric Latte
Creamy and satiating high fat vegetarian golden milk latte
Ingredients
2

tsp

ground turmeric

1

tsp

ground ginger

1 tsp

ground ceylon cinnamon

1

pinch

ground peppercorn

1/8

tsp

ground cardamom or 1 cardamom pod

optional, but lends an authentic flavor

1

whole

clove

1

pinch

ground cayenne pepper

optional

1

tsp

butter

grass fed, optional

1

tsp

coconut oil

16

oz

flax milk

unflavored & unsweetened (can substitute almond milk, cashew milk, coconut milk)

to taste

honey

Organic unfiltered raw cold packaged
Instructions
Warm flax milk, coconut oil, clove, and butter in pot over medium heat until butter is melted. Stir.

Pour splash of cold flax milk in blender and add turmeric, ginger, ceylon cinnamon, ground peppercorn, cardamom, and cayenne pepper (optional). Blend until smooth.

Stir contents of blender into pot containing warmed flax milk, coconut oil, and butter. Stirr. Heat for up to 5 minutes.

Add Honey to taste and serve immediately. Enjoy while warm!
Notes
To modify for cold beverage:
skip the coconut oil and butter
chill after heating and serve over ice
If you enjoyed this recipe try this One-pan vegan coconut noodle stir fry.
Pin This!