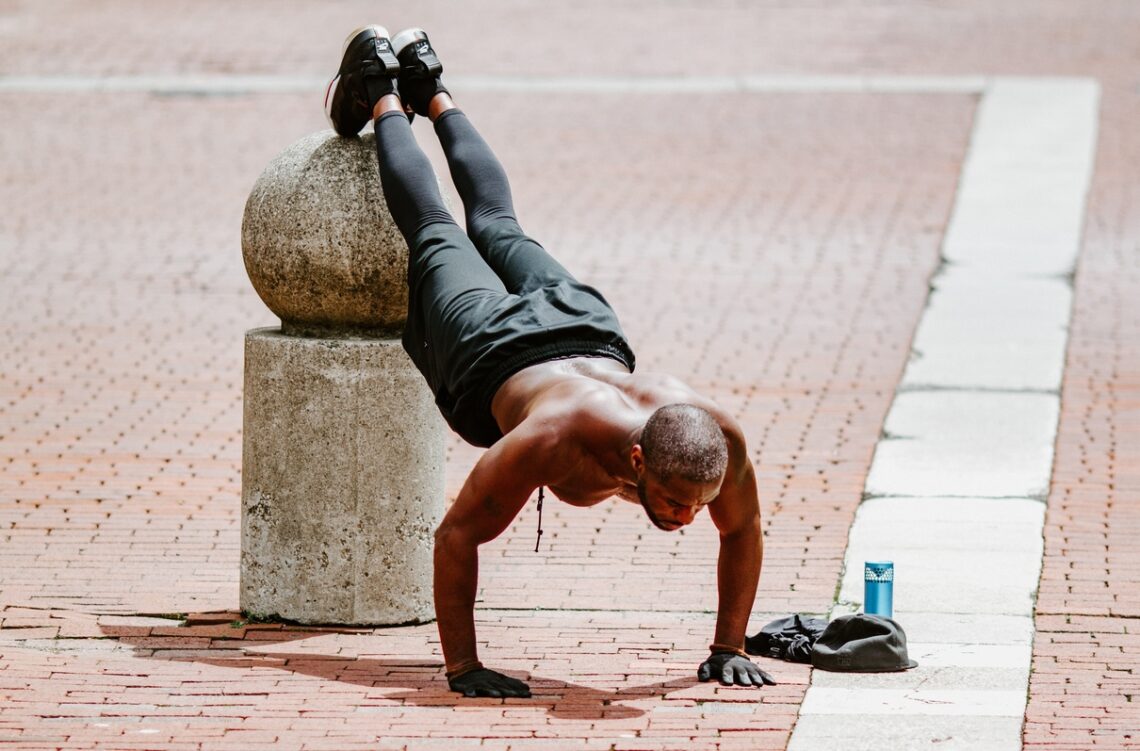 The Only Workout Accessories You Need for Travel
Heads Up: This post may contain affiliate links. If you click and make a purchase through one of these links, I may make a commission at no cost to you. You can read our full disclosure here. Namaste!
Since turning to the digital nomad lifestyle, I've learned a lot about staying fit on the road and while traveling. Over the past few years I've tried all sorts of workout gadgets, tools, and accessories while trying to compile a short and precise list of the only workout accessories to pack for travel.
What was once my overstuffed and busting at the seams "traveling gym" backpack has turned into just a few items. I've lightened my carry load and narrowed down my traveling gym to just a few essential workout accessories that pack a lot of punch and travel easily without being cumbersome.
Fitness Mat
A light weight, yet cushioned mat that is versatile enough to be used for yoga, pilates, plyometrics, barre, etc and will serve as a cushiony barrier between you and (sometimes) questionable floors is a crucial workout accessories you need for travel.
This mat needs to have enough cushion to protect the knees, elbows, and tailbone from the pressure that hard floors can cause. The mat should have enough grip to provide some safety in sustained positions, but some slip to allow for exercises that require sliding. It should be rugged enough to handle exercise with gym shoes, but smooth enough to use barefoot. And it shouldn't slide around while you're using it.
And all the while, it needs to be thin enough to not cause problems for balancing exercises, and lightweight enough to be packable.
Talk about finding the Goldie Locks of fitness mats!
Finding the perfect mat that will cover all of these points and is travel friendly is a challenge.
I've used many mats from the cheapest dollar store option, to the most expensive luxe option. I've tried every material from rubber, to cork, to TPE, you name it!
Many of these options may be ok for use as either a fitness mat, yoga mat, pilates mat, or barre mat. However, the only mat I've found that is versatile for all of these is the Manduka Pro series.
Manduka has entered the chat.
Manduka has several mat lines from their Original PRO, PROLite, and PROTravel series that I've been a big fan of over the years. The PRO family of mats also come with a fantastic lifetime warranty! Which is good piece of mind for your investment and while you're jetsetting.
For travel I love the PROTravel mat as it can be rolled or folded and it checks off all of the requirements for the perfect fitness travel mat. So much so that even Goldie Locks would be thrilled!
The specs:
Avg Price: $68.00 USD (keep an eye out on Amazon because they work on fluctuating prices and you could snag a good deal)
Weight: 2.4 lb
Dimensions: 71" x 24"
Thickness: 2.5 mm
CLOSED-CELL CONSTRUCTION: Closed-cell surface keeps moisture and bacteria at bay, increasing longevity and making post-class cleanup a breeze
SUPPORTIVE CUSHION: Added cushioning means added comfort and protection for your joints
SUPERIOR GRIP: proprietary dot pattern holds the mat in place while extra grippy material keeps you from slipping-up, even with light perspiration
SAFE & SUSTAINABLE: 100% latex-free
Standard 100 by OEKO-TEX®️ certified.
Emissions-free manufacturing.
Resistance Bands
One of the great workout accessories you need for travel to maintain resistance training when you don't have access to weights is Resistance Bands.
With the right set of resistance bands you can train nearly every part of your body. Usually sets range from 1 lb of resistance all the way up to around 50 lbs of resistance per band. Bands are super versatile and are great for isolations, stability, strength training, and resistance training. Additionally, they can even be incorporated in to yoga, pilates, and barre practices.
These are the best options:
Wide un-looped sets are the most light weight, packable, and travel friendly. I opt for these when I have limited luggage space.
Pull up bands are the most heavy duty option. They are a fully looped and made from thick rubber. You can get pretty high resistance with these, but they're not as versatile as the other options on the list. Keep in mind that these will be the heaviest option and do better for travel with checked luggage, longer haul trips where you may not have access to stores to replace broken bands, or road trips.
Tube sets are the most versatile option on the list. They are lightweight, can be clipped in numerous ways ( to themselves to form a loop, to handles, doorways, etc,) and can be used for many different exercises. You can even use multiple tubes together to up the resistance, sometimes up to 100+ lbs. Sets tend to come with several accessories, which allows you to pick and choose what you want to pack. When it comes to packing your bags, this is a good mid-weight option with lots of customization potential and my preferred type of resistance band to travel with.
Trigger Point Massage Ball
Remembering to pack a recovery tool in your luggage is crucial. I used to travel with a foam roller, but eventually found even the "travel size" to be too cumbersome and not very versatile.
I like this trigger point massage ball so much that I will pack one in my backpack or carry on so I have it at hand. During long haul travel where you may be confined to your seat for extended periods of time a massage ball is especially useful. In these cases it's super helpful to be able to do self massage to help alleviate any muscle discomfort.
Foam trigger point massage ball: this option is small and lightweight. These are, however, more fragile and I've popped several of them over the years.
Lacrosse ball: Slightly heavier than the above, but is likely to last the longest.
Tennis ball: A great economical option. Due to the hollow rubber construction this will have a more mild effect compared to the other options on the list, but it will still get the job done.
Phone, Tablet, or Laptop
When I'm not in the mood to create my own yoga flow or workout plan, I'll pop on a youtube video and get my sweat on.
Your electronic devices are great workout tools! You can easily access workout plans, videos for plyometrics/HIIT/Bodyweight, yoga, barre, mat pilates, and more!
I've found this HDMI cable helpful as it allows me to watch my workout video on the TV rather than on the small screen on my device.
There are apps to track your workouts, sleep, nutrition, and supplements. And perhaps most helpful is the clock app with it's alarm, timer, and stopwatch functions to use during workouts.
I own the range of apple products which work flawlessly despite their age. The iPhone 11 has been fabulous. I equally love my 2013 13′ macbook pro (newest version here), and my ancient iPad (new version).
Headphones and Speaker
Audio equipment is some of the most important workout Accessories you need for Travel. Working out just isn't as pleasant or motivating without music. I've searched high and low and tested numerous products for the best travel-friendly workout audio equipment that would make any audiophile happy.
Headphones
I've tried so many headsets in the gym. Hands down the best options are by Jaybird Sport. They're a great company and I've used their headsets for years.
Jaybird audio equipment is specifically made for athletes. All of their products go through rigorous athlete testing before being released.
I had their wireless bluetooth X2 headset for years before upgrading recently to the completely cordless bluetooth VISTA earbuds. The VISTA comes at a good price point, is super compact, and is built to last. The best part: THEY DON'T FALL OUT OF MY EARS!!!
I love this headset so much I've gifted them to friends and family many times over.
The specs:
EARTHPROOF Fully waterproof crushproof dropproof and sweatproof IPX7 construction ensures Vista can withstand any workout running or weather conditions (Meets MIL-SPEC STD810G standards)
ALWAYS READY Vista gives you 6 hours of audio on a full charge plus 10 more in the compact charging case for 16 hours of total charge and 32 hours If using one bud alone A 5-minute quick charge offering an hour of playtime
CONNECTED Vista's cutting-edge JBS1 true wireless bluetooth technology ensures high quality zero-lag stereo sound for music and calls and a reliable connection that pairs easily with your phone every time
GO LIGHT Vista's earbuds are among the smallest and lightest premium headphones on the market meaning that you'll literally forget you're wearing them
LOCKED IN Three sizes of interchangeable ear gels ensure a secure ultra-comfortable fit that feels weightless while you stay active
FIND YOUR FLOW The Jaybird iOS and Android app gives you infinite EQ control over Vista's highly efficient 6 millimeter drivers for an unmatched custom audio experience
STASH IT The compact low-profile charging case makes carrying and charging Vista effortless
FIND MY BUDS Keep track of your wireless earbuds through the Jaybird app
Speaker
When I'm working out at home or an empty hotel gym I love turning on my own jams and cranking up the volume.
Hands down, the best bluetooth speakers for travel are by JBL. They come at a good price point, and are pretty darn resilient. My personal favorite is the JBL Charge 4.
The specs:
Wirelessly connect up to 2 smartphones or tablets to the speaker and take turns enjoying powerful sound.
Battery type Lithium ion Polymer 27Wh (Equivalent to 3.6Volt, 7500mAh). Battery charge time 4 hours (5V/2.3A). Music playtime up to 20 hours (varies by volume level and audio content)
Take charge 4 to the beach or the pool without worrying about spills or even submersion in water.Bluetooth version:4.2
Amplify your listening experience to epic levels and rock the party perfectly by wirelessly connecting more than 100 JBL connect+ enabled speakers.
For a lighter and more compact option, the JBL Flip 5 is a good contender. Though, you will sacrifice some sound quality for size.
The specs:
Wireless Bluetooth streaming
12 hours of playtime
IPX7 waterproof
Pair multiple speakers with party boost
Premium JBL sound quality
Connector Type: 3.5mm Stereo
Power Source Type: Battery Powered
PIN THIS!